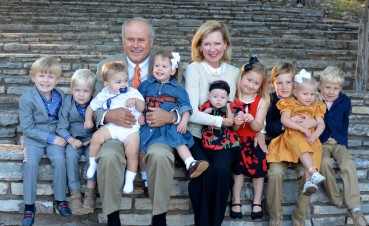 Dick and Tweety Eastland
The Owners and Directors of Camp Mystic are Dick and Tweety Eastland, who have been at Mystic since 1974. They, shown with their nine out of ten grandchildren, are the third generation to manage Mystic, which has been in the family since 1939. Both Dick and Tweety attended The University of Texas in Austin. After they married and graduated from college, Dick, who is Ag's grandson, and Tweety decided to make their home at Mystic. For many years they worked alongside Iney and Frank Harrison, learning the traditions and operations of the camp. In the Mystic spirit, their goals are to boost every camper's self-confidence and to nurture the development of their individual characters. Dick & Tweety continue to keep the Mystic traditions thriving.
---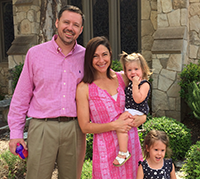 Richard and Leslie Eastland
As Head Chef and Kitchen Supervisor, Richard Eastland manages and oversees the day-to-day operations of our camp dining hall. Richard, shown with his wife Leslie and their daughters Peggy Ann and CC, is the oldest son of Dick and Tweety. Richard attended The University of Texas and later graduated from Saint Edward's University. He then attended the Texas Culinary Academy in Austin. He has been running the kitchen since 2001. His responsibilities are extensive, and include menu planning for three meals daily, food preparation and serving hundreds of campers and counselors each meal, and supervision of his staff. Richard's talent abounds and every summer the campers rave about the wonderful meals he and his staff prepare. Click here to view photos from Richard's Kitchen and Harrison Hall.
---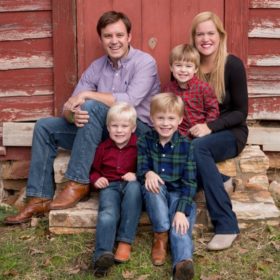 Edward and Mary Liz Eastland
As Business Manager, Edward takes care of many office responsibilities. He is the youngest son of Dick and Tweety and has gained extensive knowledge of the operations of Camp Mystic in and out of the office. Edward spent many summers working the camp grounds, and then took on the role of Bookkeeper for two years. He graduated from The University of Texas in 2007. Edward and Mary Liz Howard, shown with their sons Andrew, Walker and Edward, Jr., married in May 2008. Mary Liz was Mystic's Program Director from 2005-2007 and a camper since 1992. She graduated from Baylor Nursing School in 2007 and is a registered nurse. Mary Liz is our Assistant Director of Health and Safety, overseeing and working in the infirmary each summer. They reside at camp year-round.
---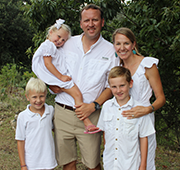 Britt and Catie Eastland
Britt, shown with his wife Catie and their sons George, Charlie, and daughter Elizabeth are joining us again beginning summer of 2015. Britt helped manage our stables and taught nature study at Mystic while in college at Washington and Lee University in Virginia. After graduation, he studied in Madrid, Spain and then entered St. Mary's Law School in San Antonio in 2002. After Law School, he married Catie and opened his law practice in San Antonio. Catie graduated from Arizona University and has taught school in Austin and was a counselor at Mystic in 2003. We are blessed that Britt, Catie and their children are now joining us at Mystic.
---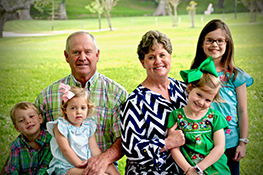 Craig and Betsy Althaus
Betsy and Craig Althaus, shown with their grandchildren Cullen, Henley, McCrae, and Cora, joined Camp Mystic in 2000. In her job as Assistant Director, Betsy plays a major part in all correspondence with camp families throughout the year. Before joining Mystic, Betsy was a preschool director and teacher in Kerrville. As our Director of Operations, Craig leads Camp Mystic's Horseback Riding program and supervises the maintenance of the camp grounds. Before coming to Camp Mystic, Craig worked extensively in ranching. Both Betsy and Craig were born and raised in Fredericksburg, Texas. They have two children and four grandchildren. They reside at Camp Mystic year round. Those that know Betsy and Craig can count on them for their enthusiasm, humor, and love for camping.
---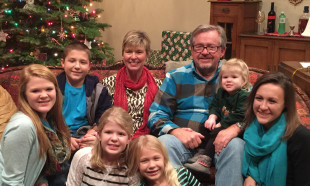 Catherine Kelm
In her job as Office Manager, Catherine, shown with her husband David and their grandchildren Hannah Rose, Xander, Mahala, Maddy, Katie Mae and Kelleigh, helps with the smooth day to day operation of Camp Mystic. Catherine came to Mystic in the fall of 2000. She and her husband, David, moved to the Hunt area in 1999 from Temple, Texas. Catherine has two children, five granddaughters and one grandson. Parents can always call on Catherine for help year round.
---
J.C. and Ira Bell Mattox
Ira Bell and J.C. Mattox came to Camp Mystic in the spring of 1952. They were hired on by the current directors at that time, Iney and Frank Harrison. J.C. worked as the head of maintenance and Ira Bell did several jobs including secretarial work and book keeping. The Harrisons found the couple to be highly trustworthy, hard working, and dedicated employees, and it wasn't long before a great friendship and respect developed. Ira Bell and J.C. have a daughter who graduated from The University of Texas and now lives in Dallas. They currently reside at their home in Kerrville, but continue to work full time at Mystic. Ira Bell manages the Mystic registry, while J.C. works as Mystic's Senior Grounds Supervisor. When asked why they have stayed at Mystic for so many years, Ira Bell replies, "Because Mystic has been owned by the same family all these years. It has never changed hands in all that time."
---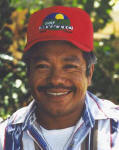 Mere Vasquez
Mere came to Mystic in 1979 and has played an important role in keeping the facilities at Mystic maintained and looking beautiful. Anyone who visits Mystic will notice the wonderful rock work around camp that Mere is responsible for. Mere and his family live near the camp in Hunt. Mere can always be counted on for his great sense of humor as well as his tremendous work ethic.
---
2018 Summer Counselors & Staff (click to view)